For more Avant details, help or advice please call the Kellands team on 01278 451 601 or alternatively you'll find our dedicated expert for your area over on the contact page.
I have been in the building trade for over 30 years and I have never come across and more helpful, professional and friendly service, I can honestly say that Paul Helps certainly lives up to his name - he really does HELP!! Paul and his team will go the extra mile to assist their customers in any way they can from discussing needs, finding suitable equipment to precisely fill your requirements to helping with finance - he is honest, genuine and one of the nicest people that I've had the privilege of dealing with.
As to the Avant itself it's an absolutely incredible machine, I don't know how I've managed to long without one!! It's so versatile, it's like a giant Swiss Army Knife, it has not failed to meet any of my many varying requirements on the building site.
Thanks to Paul and his team, I would 100% recommend this company and their products.
Stuart Maycroft
The Avant is doing well when we have used it. You have provided a great service thank you.
Terry Warrington
I recently purchased a R35 Avant with a few attachments from Avant Equipment. From the initial contact to delivery I couldn't be happier with the service. Paul is obviously very passionate about the business and gave me great advice and help.
Ollie Blake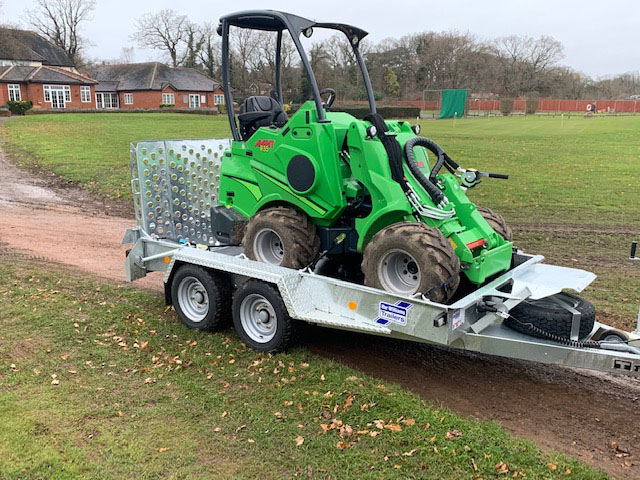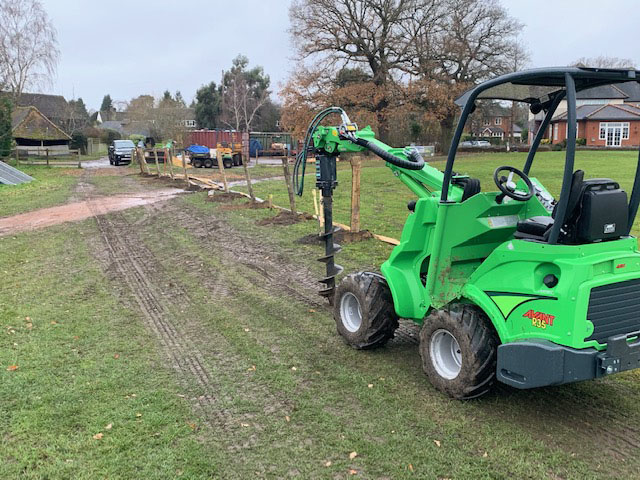 Also a big thanks to you and Lorraine for the way you carried out the purchase of our Avant. Your professional and helpful approach is really appreciated and I look forward to dealing with you in the future. I'm really pleased with the R35, it's a fantastic bit of kit. The flail mower is doing a lovely job, don't even break into a sweat now and the log grab is perfect.
Dave S
I've been asked my views on dealings I've had with Paul Helps Ltd (Avant Equipment).
I bought an Avant 635 loader from him a couple of years ago, having searched the web for a supplier of these machines. After 'phoning the number found on his website to find more information about the Avant loaders, I was put through to Paul, who was extremely helpful. He answered all my questions and said if I need any more info just give him a call. Anyway, I made up my mind and spoke to him again, and ordered the 635 from him.
He delivered it to me very quickly, and having unloaded the Avant did not rush off. He showed me everything I needed to know about operating it, including several tips to make things easy.
If I've needed info about any other Avant products, the girl who answers the 'phone has always been very helpful and really nice to talk to, getting Paul to call me if needed!
The machine itself is unbelievable, easily lifting 1 Ton builders bags (I bought the forks to go with it) from lorries, and pulling heavy trailers around my 1acre patch with no effort. I bought the quick release attachment plate for the front and welded a tow ball on it. Fantastic for shunting trailers around the place with everything in front of you. Every time I use it I find something else it will do, and there's nowhere it won't go. It still surprises me!
Anyway, I would have no hesitation in recommending this Company or the Avant loader to anyone, and can assure you I have no connections with Paul Helps or Avant (just a 74 year old pensioner with an unruly acre to maintain), apart from being an extremely satisfied customer!
TC
The advice that we received from Paul Helps Ltd was sound and practical.The product has proven to be reliable and able to perform all the tasks expected of it. We have no hesitation in recommending Paul Helps Ltd to any prospective purchaser.
MB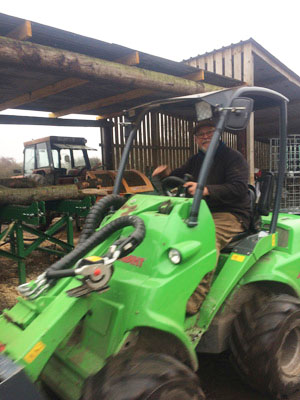 Just a quick note to say thank you very much for all your help and advice. The purchase of the Avant 630 has been one of the best purchases we have made, and we now wonder how we managed without it.
We cut the grass in double quick time all around the fishery, used it with the log grab in the winter to load our firewood processor deck and stack the cages of processed logs, and now it's being used to load the big pan mixer and transport mixed concrete to the curb casting job, part of our road building project here at the fishery...fantastic piece of kit, and so manoeuvrable light on its feet.
JW
We had been contemplating buying an Avant to use in our small cow yard for some time. My husband had used a 600 series machine while working for the National Trust and was impressed by its capability handling wood/trees. We visited Paul Help's Avant stand at the Gillingham & Shaftesbury Show and were hugely impressed by the Avant knowledge of Paul's 10 year old son - Paul knew his stuff too!!!
Our budget would only stretch to a Avant 420 (much to my husband's disappointment) but we were convinced, a deal was done and delivery arranged soon after. Everything ran smoothly thanks to Paul.
The Avant has proved a very versatile tool - yard scraper (we have a small, awkward shaped cow yard) and hay bale handler. I asked my husband if he would part with the Avant and it was an emphatic 'NO'!
FG
I am pleased to say that I have been delighted with my Avant purchase and wonder how I managed without one. It has proved extremely versatile on my livery yard fulfilling many functions.
Paul gave me excellent advice when I enquired about purchase and was very accommodating with delivery arrangements.
AA
When a Bridgwater based tree surgeon secured a contract to deal with over 80 tonne of wood in connection with a major site clearance contract he was at last able to justify the purchase of an Avant compact tool carrier.
Sedgemoor Tree Services, established some ten years ago by Jim Doble and his wife Nicola, specialises mainly in private garden contracts and was very keen to acquire an Avant® in order to make life easier when working in tight access areas.
Commenting on his acquisition, Mr. Doble said: "The machine has proved a real bonus for our type of work, particularly as we have also purchased a range of highly useful attachments including pallet forks, log grab, ripper and a flail mower."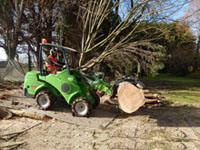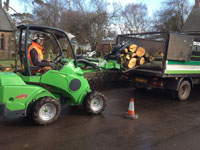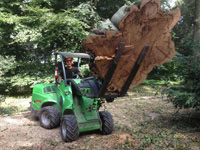 Mr. Doble had initially looked at skid steer machines but decided that the wheel mounted and articulated chassis of the Avant design would cause far less damage to sensitive surfaces such as grass.
Mr. Doble continued: "The Avant has now changed the way we tackle bigger jobs by minimising back-breaking hand work and it also has the added bonus of being very easy to transport to site behind my 4x4 truck."
Supplied by local dealer Avant Equipment of Glastonbury, the 528 model chosen by Sedgemoor is powered by a fuel-efficient Kubota diesel engine developing 21 kW (28 hp) and is able to lift 800 kg to a maximum height of 2790 mm thanks to its telescopic boom.
An Avant 750 compact wheeled loader, supplied by local dealer Avant Equipment of Glastonbury, has proved to be the perfect tool for a Somerset based manufacturer of rubber play surfaces.
Star Rubber Environmental of Bridgwater transforms black rubber chips from old truck and bus tyres into TigerMulch, a decorative and hard wearing surfacing material available in eight colours and used mainly for children's playgrounds, pathways and tree dressing.
Before the arrival of the Avant machine the company had been using a 4 m reach telehandler for all its external and internal handling activities but was proving far too large for the efficient loading of raw material into the feed hopper inside the production building.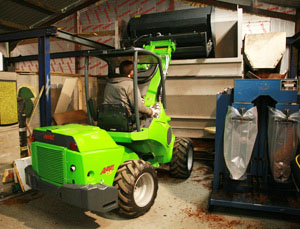 On the other hand, the Avant has proved to be ideal for the application thanks to its compact dimensions, articulated chassis and excellent driver visibility which allow it to work safely in the tight access area involved. To enable it to easily reach the high level feed hopper, Star Rubber has equipped its Avant with a large toe-tip bucket which can fill the hopper in just three passes.
Commenting on the machine, company director Nat Robertson said: "The job is so much easier using the Avant and the telehandler can now concentrate on its outside duties where we use a patentedprocess to colour the rubber chips. We currently produce about 2 tonne of finished product per hour but will soon streamline the whole process and, with help from the Avant, plan to increase production up to 8 tonne/hr."
The 750 model chosen by Star Rubber is powered by a Kubota 4-cylinder diesel engine developing 36 kW (49 hp), driving through a 2-speed hydrostatic transmission. The all-wheel drive, articulated machine is just 1050 mm wide and can handle loads of up to 1.4 tonne.
The very first Avant 760i compact tool carrier to be sold in the UK has recently been delivered to Somerset builder Mike Durston by local dealer Avant Equipment of Glastonbury.
Durston Construction of Shepton Mallet is a small, family-run business and for some 25 years has been building individual houses as well undertaking restoration projects and extensions.
According to Mr. Durston the most common problem he encounters on sites is limited access and so he had been looking for a machine capable of tackling a wide variety of tasks where space is at a premium.
"I first spotted an Avant at the Bath & West Show on the stand of the local dealer where I met Paul Helps", commented Mr. Durston. "Paul convinced me that an Avant machine would be perfect for my type of work, particularly as it could be easily transported between sites on a trailer behind my truck."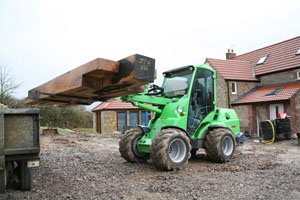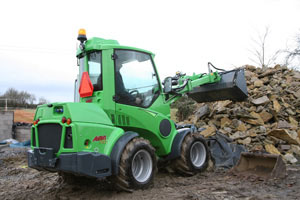 Following a subsequent demonstration, Mr. Durston decided to place an order for Avant's latest flagship model together with a 4in1 bucket and a set of pallet forks. The 760i unit chosen offered the advantages of a quiet and fuel-efficient turbocharged Kohler engine meeting the latest Tier 4 Final emission regulations. This new model provides outstanding performance for maximum torque being on tap from almost the idle position.
Despite is outstanding performance, the 760i is still a compact unit measuring just 3080mm in length and 1400mm in width and features an hydrostatic transmission allowing a maximum travel speed of 30km/h. The machine is also highly stable, even at speed, thanks to larger and wider tyres that also help to minimise damage to delicate surfaces. In addition, its auxiliary hydraulic system is able to supply an impressive oil flow of up to 80 l/min for powering a huge range of available attachments.
If you have any questions regarding the Avant brand or you need help to make the right decision regarding which Avant loader and attachments would suit your needs both now and longer term, please call us on 01278 451 601 or email sales@avantequipment.co.uk.